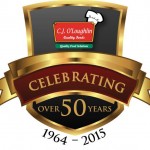 CJ O'Loughlin Quality Foods provides a one-stop shop for Restaurants, Hotels, Shops, Bars and an array of businesses providing food to the public.
We are distinctive in that we offer a complete solution supplying frozen, ambient, chill foods to drinks, packaging and cleaning products. We comply with all national and international food safety standards whilst delivering an exceptional service.
Our dedicated fleet of refrigerated vehicles cover areas such as South Dublin, Counties Wicklow, Wexford, Waterford, Carlow and Kilkenny.
Our operations run from the Head Office located in Courtown, Co. Wexford; where we have been since 1964. There is a shop onsite here open to the public from Monday to Friday 9am to 5pm and also Saturdays from 9am to 12:30pm. There is another sister depot in Kilkenny, this is also open to the public on Fridays from 2 to 4pm for collections only.
In 2016 CJ O'Loughlin joined Musgrave Marketplace, by doing this CJ O'Loughlin are able to offer an expansive range of products to our customers. We pride ourselves on carrying locally sourced products (E.G. Model County, Stafford's Bakeries, Loughnanes and Rosie & Jim). Including this we also stock global quality products.
If you have any other queries please do not hesitate to contact our Telesales Team on 053 9425157 (Open Sunday to Friday 8am to 10pm).
C.J. O'Loughlin Quality Foods …Delivering Quality in Every Case