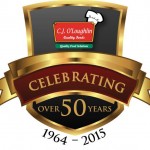 C.J. O'Loughlin Quality Foods are pleased to announce the launch of our brand new website!!
After three months of hard work and dedication, we are delighted to officially announce the launch on Friday, January 15, 2015.The new site can be viewed on www.cjoloughlin.ie.
Our new look website showcases our extensive range of high quality products to provide customers with an easier way to find exactly what they are looking for.
This interactive design gives better access to our product range, special offers and information about who we are and what we do.
Some new features of the site are integrated social media buttons for Facebook and Twitter to foster better communication with our clients plus all the latest news from us and our industry. This will be updated regularly with helpful information and all of our exciting new products.
We hope you enjoy the new C.J. O'Loughlin Quality foods website.
For any questions, feedback or comments please email info@cjoloughlin.ie.